Interviews
---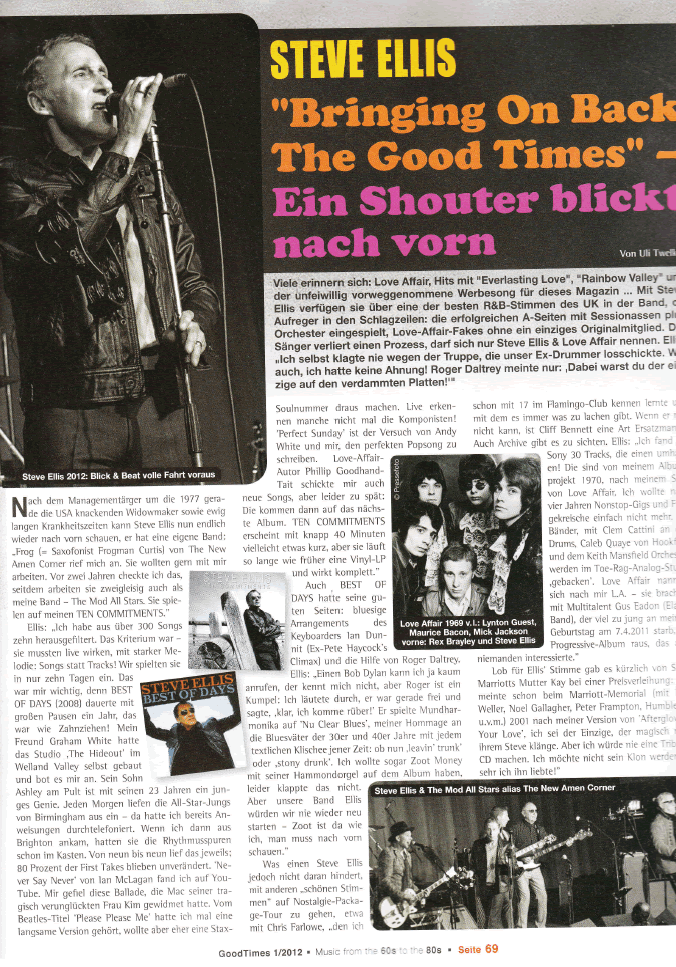 English Translation:
Steve Ellis"Bringing On Back the Good Times": A Mod All Star looks ahead
Many fans will remember: Love Affair, Hits with "Everlasting Love", "Rainbow Valley" and the above ´commercial´ for this magazine: "Good Times". One of the best R&B voices in the Kingdom, but always with the wrong implications in the headlines: like the famous A-sides done with session aces plus orchestra. Love Affair fakes without a single original man on stage: Ellis, losing the case, is forced to go out as Steve Ellis & Love Affair. "According to the judge, I never complained because of that band which our ex drummer put on the road. How could I, when I didn´t have a clue they were on! My friend of 40 years, Roger Daltrey, commented "After all you were the only guy on the bloody records!"
Following management hassles of the US-cracking band Widowmaker in 1977, with Luther Grosvenor of Spooky Tooth fame as well as the singer´s long bouts of ill health (and his son´s too over the last seven years) Steve Ellis can now look ahead, and has his own band again: "Frog (Saxophonist Frogman Curtis) of The New Amen Corner just called me. They said they would love to work with me. Two years ago I checked them out. They also go out under the name The New Amen Corner, and they´re my band out of choice, I tag them the Big City All Stars. They are also the guys on TEN COMMITMENTS."
"We arrived at ten hand-picked ones out of 300 songs, I wanted them to carry over live, and they had to have a tune, a melody – a song as opposed to a track. We did it in ten days. That was important for me, because BEST OF DAYS (2008) took a year, with big breaks, which was like pulling teeth! The studio is somewhere in the Welland Valley, called The Hideout. My friend Graham White was building it. He said to me "I have finished the studio, do you want to try it?" His son Ashley on the mixing board is a young genius, only 23 years old. The boys would get there in the morning. I would have given them a brief of how I wanted it. When I was coming up from the coast from Brighton, they already had the rhythm tracks nailed. We worked nine till nine, twelve hours is enough. 80% of the time what had gone down stayed down as first takes, and 20% got redone. "Never Say Never" by Ian "Mac" Mc Lagan, I heard on The David Letterman Show and on YouTube. I really liked this ballad, and Mac is really happy because he wrote it for his wife who tragically got killed."
"With "Please Please Me", I heard a slowed-down version by somebody. Then I thought we could do that like a Stax Soul style thing. Some people don´t even know who wrote it, ha. "Who wrote that then?" – "Lennon & McCartney!" And they go "Oh no, you´re joking!" With "Perfect Sunday", it was Andy Lewis (Paul Weller Band) any myself trying to write a perfectly standard pop song´. Phillip Goodhand-Tait also sent me some songs, but they came in too late, I told him we may do them on the next one. TEN COMMITMENTS comes in at just under 40 minutes, 10 tracks, they come up a bit light but in the 60s, when you bought a vinyl album, they didn´t last much longer than forty minutes.
BEST OF DAYS also had ist good aspects: Bluesy arrangements by keyboarder Ian Dunnit (Ex Pete Haycock´s Climax) and help courtesy of Roger Daltrey: "I can´t just phone up Bob Dylan. He doesn´t even know who I am. With Rog, because he is a mate, I just phoned him up, and luckily, he wasn´t working and "Yeah, I´ll come down". He just turned up, came in and put it down. That track, "Nu Clear Blues" was basically written to put every known vocal blues lick into one track, "leaving trunk" and "stony drunk", a hommage to the blues players of the 20s and 30s and 40s. I even wanted Zoot Money to put some Hammond organ on BEST OF DAYS, but he couldn´t do it. We´re still mates, but we will never put our band Ellis back together. Zoot is like me, you´ve got to move on."
That principle does not prevent a Steve Ellis from touring on a nostalgia package, with other "nice" (as in Mod-nice) voices: for instance with Chris Farlowe, "who I met at the Flamingo Club when I was seventeen", and Cliff Bennett. "They are always good shows, and there´s always laughter. Cliff is kind of like the sub (laughs), if Chris can´t do it, then Cliff does it." There´s also archives to roam: "I found 30 tracks which will just blow you away, from my album project in 1970, after I left Love Affair. After four years of just gig-gig-gig and the screaming of the fans, I didn´t want to do it anymore. Half of the tapes are with the Keith Mansfield Orchestra, Clem Cattini and the usual crew, the other half with Hookfoot, which featured my mate Caleb Quaye – they get ´baked´ in the Toe Rag studio, which is completely non-digital, all valve. When I left, Love Affair called themselves L.A. and released an album with a fusion of the things that happened then, but people didn´t want it. They had the singing multi-instrumentalist Gus Eadon, who died much too soon, on my birthday (7.4.2011).
Recently, there was praise for Ellis´ voice from Mother Marriott at a Humble Pie award event: "As early as the Marriott Memorial in 2001, she came to the sound check and heard me doing "Afterglow", and it just gob-smacked her, but I wasn´t trying to copy him. She wrote this thing to me how I was the only one who could sing like her Steve. But I would never want to do a tribute album, because, with respect, I love the man, but I don´t want to appear to be a Steve Marriott clone."
Uli Twelker, Good Times Magazine

---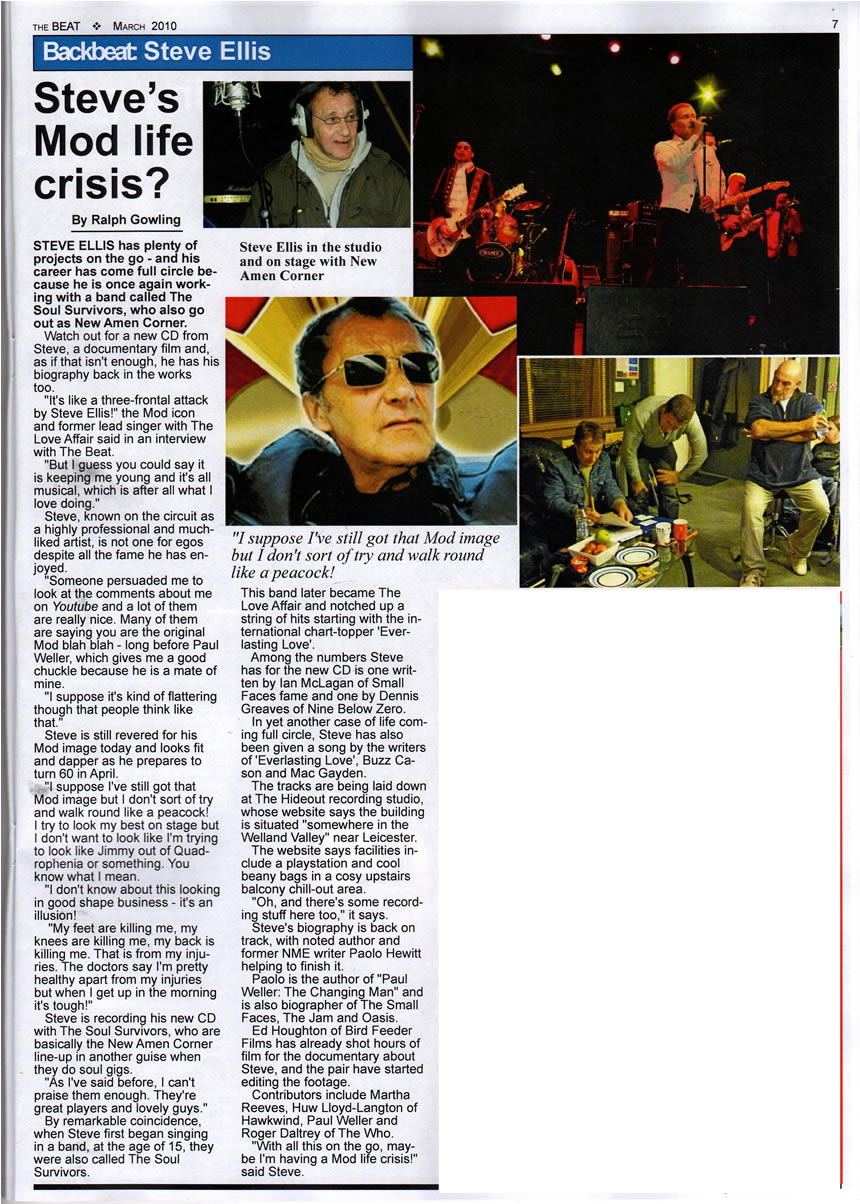 ---
z. My weapon of choice is my voice and music is my occupation.............Thanks for the interview...........Keep the faith.
PB : Thank you.

---
New interview with Steve on The Strange Brew:
http://thestrangebrew.co.uk/articles/steve-ellis-time-hasnt-changed-us
---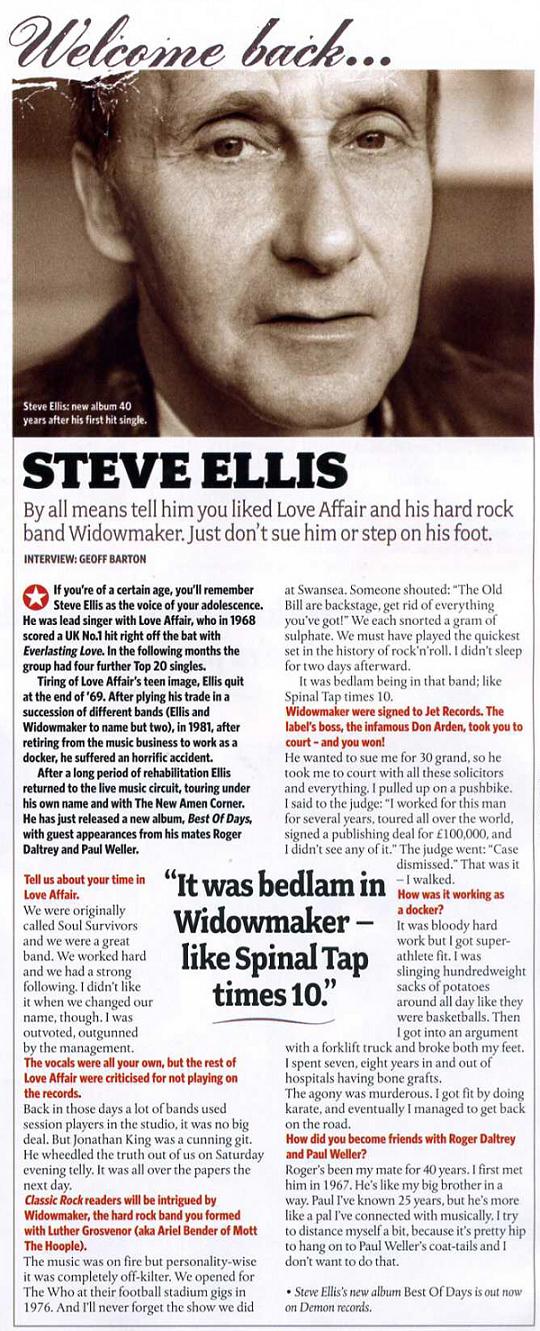 ---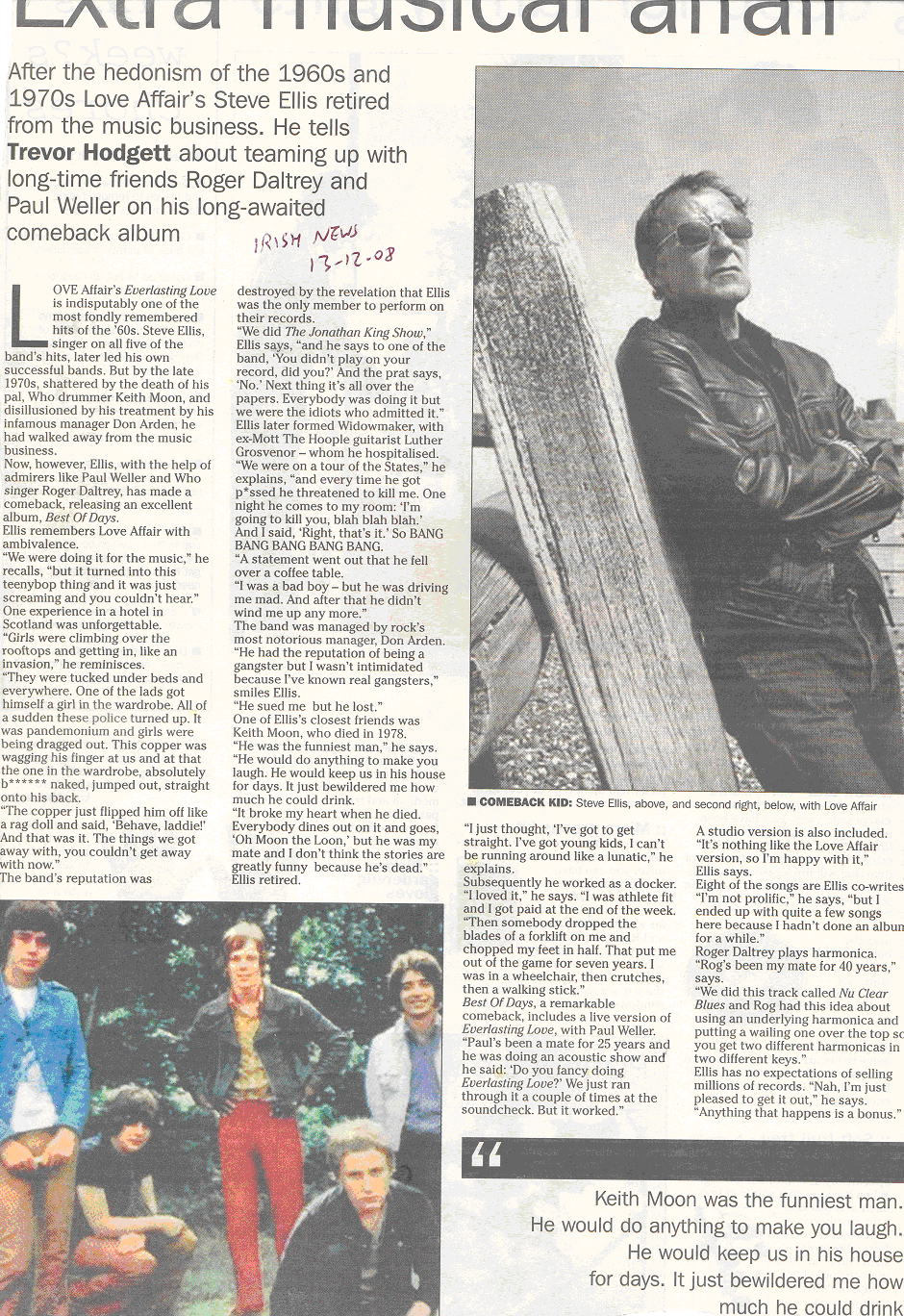 ---
My Favourite 45 by Steve Ellis (Love Affair)
Steve Ellis, legendary singer with the seventies blue eyed soul band The Love Affair, is back with a brand new album, 'Best Of Days' which includes a new version of the classic 'Everlasting Love' alongside a cover of Paul Weller's, 'Brand New Start' and brand new compositions. Both, Roger Daltrey and Paul Weller also appear on the album.
The man behind such perennial Mod club spins such as, 'Loot's The Root' and 'So Sorry' took time out from promoting his latest release to tell RSG! readers about one of his favourite 45s.
"There are numerous great 45`s of the sixties so many in fact it is impossible to actually make one of them favourite" say Steve, "So (I'll go for) a random shot "Positively 4th Street" by Bob Dylan".
"Ironic as my musical tastes lay deeply in Black Soul & Blues Music because to be honest they have just got soul, James Brown, Wilson Pickett, Sam & Dave, David Ruffin, SamCooke, Howlin Wolf, Muddy Waters, Memphis Slim, Lightning Hopkins, Snooks Eaglin, Ray Charles, Paul Robeson et al, Tamla Motown, Stax, Oriole, Chess, Sue. Indefinable but they and hundreds more translated so much passion and feeling".
"So for me to pick Bob Dylan is strange I suppose because Bob is no James Carr or Otis Redding or Etta James. Bob Dylan is to some a bumbling old man past his best, to some he is the messiah. Well folks sorry to disappoint but he is a human being and a great one at that. He has written so many classics it is ridiculous. Sure The Beatles and The Stones and to some degree Pete Townsend and The Who and not forgetting the sadly missed Marriott and Lane or Ray Davies and The Kinks all major players in the songwriting dept, in the sixties but Dylan keeps on writing them even to this day".
"So back to the plot "Positively" is a great lyric in that it curses all the people who smile in your face and stab you in the back so to speak. The world is full of them but Dylan just brushes them aside stating "I know just where you're at, you just want to be on the side that's winning". Quality. I can't say "The Hurricane " because it is 70`s but what a lyric......"
"I had a look through my CD's before I typed this and the funny thing was I found I owned more Dylan than any other artist although the rest of the music is a very mixed bag indeed".
"So from an old soldier/mod, Dylan takes 1st Prize".
---
Hey all, better late than never. I recently did an interview with Steve Ellis about his new album and Small Faces related. A million thanks to Mark Baxter [Bax] who more than helped me with the questions, cheers Bax. Plus also thanks to members of this list for sending a couple of questions in.....

1/ "Your new album, 'Best Of Days' ...Are they all recent recordings or have you been ready to be released for a while?"

The album was actually recorded a few years ago.However my son was taken gravely ill consequently it went on the back burner as my son was far more important for obvious reasons.During my absence from the music scene it sort of got bootlegged & was released with a dreadful cover with rubbish Mastering & incorrect mixes please tell people not to buy it.The correct/current version "BEST OF DAYS" is on DEMON" if people are interested.The other cover was pants (pyschedelic hearts on a river) it has a different title avoid it at all costs it is technically a bootleg.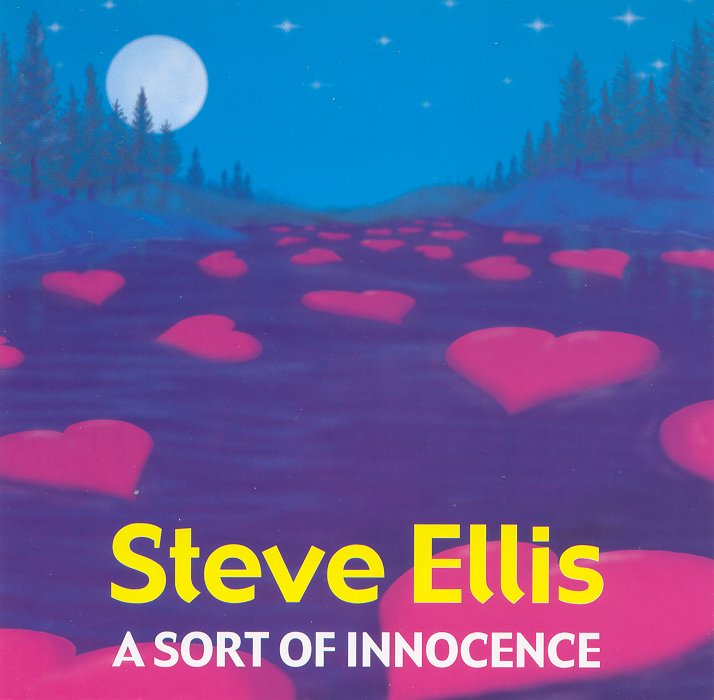 A Sort of Innocence
This is the album mentioned above, which is not licensed and therefore, technically a bootleg.
2/ "Apart from the cover versions on the album how many of the songs did you write? Are You constantly writing?"

Probably about half I would say including co-writes.Yes writing songs for next album but I have never been a prolific writer as the record shows but I always try & come up with three or four every album.The next album is going to be much more up tempo I believe.
3/ "You seem to have a good relationship with Paul Weller and Steve Cradock. How did you get the invite to work with Paul?"

Paul & I have been mates for twenty five years so it is never anything planned.If it happens great I have a lot of respect for him he is a great song writer.I saw him at Hammersmith some months back & it was the best gig/band I have seen him do to date.Steve Cradock I have also known for ages & I really like the man.
4/ "The Love Affair were very popular when you were still in your teens, do you feel good knowing you`re still `at it` 40 odd years later?"

I am a musician I always listen out for good singers songs & so on & if people enjoy what I do Live or otherwise great I am happy.I don`t really think about the forty years because I always try & look forward if you like.
5/ "How did you come to record 'Everlasting Love' and 'Rainbow Valley', who found the original versions"

WE had two managers David Wedgebury (house photographer) & John Cokell who both worked at Decca,this is around 1966/7 they had access to all the imports on The Monument label.We rehearsed in a factory in Walthamstow & one night they turned up with "Everlasting Love " by Robert Knight an american southern soul singer.I loved it & so we set about putting it down on tape.
6/ "There was controversey regarding the band not playing on your records, can you put the record straight so to speak"

None of "Love Affair" played on any of the hits but I sang on them.We were a good live band but circumstances were such in that only I was on the records.We were asked by Jonathan King if we played on our record he knew we hadn`t.It was Saturday night live T.V. with half the nation watching.If you want a good laugh go to u-Tube & watch the clip or go to my website & it is on the homepage I believe.We all look about 12 years old.
7/ "How did the film 'Loot' after you left the Love Affair come about?"

Keith Mansfield arranged all the "Love Affair" hits we got on really well over the years so he just phoned me up & asked if I would like to do it.It has become a bit of a cult classic & the Soundtrack is quite sought after apparently.A couple of the tracks have become Mod D.J. club tracks which is nice!
8/ "You must have some great stories from your life in the music business, is a book a possibility at some point?"

I wrote a draft back in 2000 it is linear & needs some attention to detail some more funnies & updating Paolo Hewitt might get involved we will have to see how it pans out.
9/ "What are your future plans Steve?"

As explained after a three year enforced lay off I am just happy to be out playing live again + get the new album out on DEMON which is a good label, so onwards & upwards as they say.
10/ when was the first time you were aware of the small faces and what was your thoughts

We saw them on the T.V. on TOTPS or something in 1966 & we had just started the band which was then called "Soul Survivors".Morgan(Hammond player in Love Affair) Warwick Downes(Bass) & Ian Miller(Guitar) were Finchley boys Mods basically & we said "we can do that".We were 16 years old & the drummer was 14 & "Soul Survivors" supported the S.F`s at The Royal Albert Hall in 1966. Anyway S.F`s left DECCA & DECCA signed us with Kenny Lynch writing songs for us(he wrote Sha La Lee) for S.F`s.We then changed labels to CBS & the next year we were on TOTP`s with them. It was a bit like "how the F**k did we manage that"? Ronnie was a lovely guy & Steve had a great sense of humour & a great voice & they wrote some classic songs together.

11/ what`s your favourite small faces songs?

Afterglow (or All or Nothing) If I ever sing it, I sing it for Kay Marriott Steve`s mum who has become a good friend of mine over the years.Lovely lady but some people do not seem to comprehend that Steve was her son & not some legendary pop star.People should have more respect for that fact she has a lot of dignity & good old fashioned East End pride which helps a lot.She`s my mate.Funnily enough I sang "All or Nothing" with Chris Farlowe at a gig last week.He asked me up onstage & we both said "This is for Mr.Marriott".We were going to do Handbags & Gladrags but the band was rocking & we went for a faster one.Chris has still got a great voice.

12/ do you keep in touch with the original members of Love Affair and have you any idea of where they are and what they are doing?

Not really, Morgan lives in Japan, Mick sells cars Rex writes songs & Maurice plays drums again after 35 years!

Couple of questions here from members of small faces list....

13/ Hello Steve I`d like to know if, excluding the gigs with the New Amen Corner, does you have any plans to tour with your own band to support the new album?
I thought the last CD "A Sort of Innocence" which came out a couple of years ago had some cracking tunes on it. Cheers. John Smith

At present I am just happy to be back singing.I think next year will be more likely to include new songs to be honest.Amen are a great band & great blokes I am loving it.

14/ 1971-72 ish Steve was introduced to Caleb Quayes "Hookfoot` on tour
with Humble Pie as opening act(saw it myself at the Guildford civic )
He recorded and finished a full album with them which to my knowledge
still sits in the can ? whats on it and why is it locked

You have a good memory.Caleb Quaye was a pal of mine from Finchley brilliant guitarist & Hookfoot were a great band.I did half an album with them & half with Keith Mansfield it was going to be called "The two sides of" anyway it was shelved because I formed a band with Zoot Money & some pals.However I have approached SONY & they are trying to find the tapes to have a listen to them.

15/ I believe you were one of the people who organised the Small Faces first Convention?

Briefly, my pal Dean Powell asked me to help him organise it .I got my band to act as house band but Mike Mann our keyboard player was diagnosed with cancer but was hell bent on doing the gig & sadly passed away soon after + we all had flu. Anyway after it was up & running I left it in the hands of Dean & John Hellier. Some years Later I did "The Astoria" which was a brilliant night as Gerry Shirley asked me to & he had kinda picked things up musically where I left off in choosing who was on the shows & so forth.I started it for Steve Marriott, it was to be a one off Tribute at The Ruskin Arms but it snowballed into a full blown S.F`s Annual Convention every year thereafter. Dean currently takes care of Amir Khan & recently promoted "The Creation" at the 100 Club he`s a good pal of mine.

Cheers Steve, thanks for doing this.....................................Mick/Bax
- Mick Taylor
---
BRINGING BACK THE GOOD TIMES
Andy Morten interviews Steve Ellis of the `kicking band` Love Affair...

LOVE AFFAIR will always be best remembered for the evergreen "Everlasting Love" which hit the UK No.1 spot in January 1968. It propelled the five young band members, including `ace face` 16-year old vocalist Steve Ellis, into a whirlwind of superstar-dom and ushered in the sound of `68 - soul-tinged three-minute pop songs featuring booming brass, sweeping orchestral backing and the click of a Fender bass.
The Beatles and The Stones were studio-bound and out of the public eye. The Who and The Kinks were still struggling to adjust to the post-psychedelic fall-out. The charts were dominated by the likes of Tom Jones and Engelbert Humperdink with their big dramatic, and parent-friendly, numbers... British pop was in dire need of an injection of young, sexy stars.
The teenagers who had screamed at The Beatles in 1963 were now dropping acid and writing essays on the transcendental depths of Sgt Pepper. For the average 13-year old pop fan buying seven inch singles and the latest edition of Fab 208 on a Saturday morning, 1967 didn`t have a great deal to offer. But with the arrival of this wave of new bands in early 1968, pop music temporarily regained its innocence, gave the kids some pretty faces to plaster over their bedroom walls and, almost coincidentally, produced some truly great lasting pop records.
Contrary to the popular preconception that most British chart music of this era was manufactured by Tin Pan Alley songwriters and old-school managers, much of it was actually made by genuine bands - finally achieving some success and adulation after years of slogging round the provincial club circuit dreaming of the big time.
The Herd cut several mod/beat singles before achieving a string of hits including "From The Underworld" and "I Don`t Want Our Loving To Die", establishing the young Peter Frampton as the face of `68 in the process. Amen Corner were Welsh blues boys whose third single, a brass-heavy version of The American Breed`s "Bend Me Shape Me", became the first of four smashes during 1968-69 - no doubt aided by the honey-eyed looks of their singer, Andy Fairweather-Low.
Marmalade`s first hit "Lovin` Things" is possibly the archetypal `68 British pop record but its makers already had almost a decade`s experience behind them as well as a string of flop singles including 1967`s "I See The Rain" and "Man In A Shop", which are now rightly regarded as pop-psych classics.
After five years as a bona-fide R&B act with an almost unbroken run of hits under their belt, Manfred Mann lost Paul Jones, gained Mike D`Abo and continued their regular visits to the top five with the likes of "Ha! Ha! Said The Clown" and "My Name Is Jack".
Even as their award-winning Ogden`s Nut Gone Flake sat at the top of the album charts during the summer of `68, those bastions of mod cool the Small Faces retained their pin-up image of old and were unable to hear themselves play above the screams of their female fans.
"Baby Come Back" by The Equals, "Build Me Up Buttercup" by The Foundations, "Jesamine" by The Casuals, "Yesterday Has Gone" by Cupid`s Inspiration, the list goes on and on... Love Affair will forever be pigeon-holed alongside these acts - and for good reason. But there was another side to the band which remains less well known. So cast those stereotypes to one side for a moment and let main man Steve Ellis explain the paradox behind this `kicking band` that were transformed into `teenybop idols`...
---
SHINDIG!: When and how did you first become involved in pop music?
STEVE ELLIS: I played drums with two brothers when I was 13. Started singing when my pal Nigel started playing guitar about `64. We used to play down at the swimming pool. There was about a dozen of us, we went around together dressed in our Levis, deserts and three-button long sleeved stripey and hoop top things - mod gear basically.
SD: So how did the members of Love Affair get together? Were you already friends or was the band brought together through music press `wanted` ads?
SE: Nigel saw an ad in NME and said I should go to this audition, after much prompting from all the others. I knew Morgan (keyboards) as he and his brother used to come to the clubs with us in Finchley and Barnet in `66.
SD: Is it true that Love Affair got their first break when drummer Maurice Bacon`s dad bought you all the equipment you needed so that Maurice could satisfy his ambition of playing in a band?
SE: Maurice`s dad was the manager. We were just kids out for some fun. I remember Decca Records came to rehearsals and said they loved the band. It was what they were looking for to follow on in a Small Faces vein as, I think, they were leaving Decca. Anyway, they told us if we got rid of the drummer they`d sign us up. Well, Maurice was 14 and not that bad so we rallied and said, `No!` They still signed us though. Maurice got some extra lessons from his uncle Max who was drummer with Ambrose, he was a top jazz drummer. Anyway, he got better and the band gigged non-stop at all-nighters such as Tiles, The Flamingo, Speakeasy, Marquee, coffee bars and mod clubs in Southend, Brighton and London. We called ourselves The Soul Survivors and were mostly doing Stax, Motown and Atlantic R&B. We had a good following. But then the management wanted us to change our name to Love Affair. I thought it was a crap name but was out-voted!
SD: The group`s live set was dominated by the kind of soul and R&B covers much-favoured by British mod bands at the time (eg. The Who, The Small Faces, The Move). Were you in turn influenced by these bands or any others you found yourself sharing the bill with?
SE: We played the Albert Hall with the Small Faces in `66. When they played you couldn`t hear anything for the screaming. We were aged 14 to 16 so we loved The Small Faces and The Who, but were not directly influenced by them. They were just like us (when we became Love Affair) in that they did their hits but the bulk of their sets were R&B and soul orientated. Ironically, a couple of years later we played Belfast when the riots were kicking off in the square. The Small Faces played an open-air festival about 40 miles away. We all ended up staying in an `olde worlde` hotel in the middle of nowhere. We talked for hours and discovered that we were both doing a few new numbers like "Every Little Bit Hurts" and "Gilded Splinters". They had a temporary brass section and Eddie Tantan and `Speedy` Aquai on congas. We were quite envious of that. The Small Faces were more mod than The Who. The Move were hippies. But they were lively hippies!
SD: After securing a deal with Decca Records, Love Affair`s first single (a take of the Jagger/Richards penned "She Smiled Sweetly") was released in mid-1967 but betrayed little of your hard-edged live sound. Decca have acquired a reputation as being `difficult` to work with. The Small Faces among others left the label around this time. Were you happy with the way they handled you?
SE: I was honestly too young to know about any of the goings-on business wise. I hated doing that track. It wasn`t us and we were brow-beaten into doing it.
SD: Muff Winwood (fresh from The Spencer Davis Group, then in A&R) was blown away by your vocal style and got the band to record a version of SDG`s "Back Into My Life Again", which was never released. Were you concerned by this point that the elusive hit single would never happen or did you still consider yourselves primarily a live band?
SE: We lived for the day. That track that Mo still has [on acetate] is pretty good as it goes. Muff was a good guy but things shifted from Island to CBS and we got the hit record we wanted and gigged every night. Great!
SD: "Everlasting Love" had already been a US hit for Robert Knight in 1967 when Love Affair decided to record a version to be released in the UK before Knight`s came out over here. After one attempt with Muff Winwood at the controls was deemed unsatisfactory, the track was re-recorded with CBS hit-makers Mike Smith and Keith Mansfield, who had you sing but employed session musicians to provide a more commercial orchestrated sound. This must have come as a blow to the boys in the band. How did they, and you, react to this manoeuvre?
SE: The original version by the band was, as I recall, not bad. The general opinion seemed to be that I should do it with an orchestra and then give it a Phil Spector-type production. Obviously I felt odd without the band being in the studio but it was for the good of all involved. Two takes and it was done. The band were not too concerned about this approach to things.
SD: So when the song rocketed to the number one spot a few weeks later, you figured you`d done `the right thing`?
SE: It just seemed like a dream - it was surreal. We had tried so hard for the elusive hit that when we got it we were all in a state of shock. We`d done the clubs for two to three years previously so `every good boy deserves favour`!
SD: Steve, you were just 16 when "Everlasting Love" hit number one. I can barely begin to imagine what it must have been like to be the face in a hugely successful pop band at that age in the late `60s. With all the buzz of the music business, beautiful girls recognising you in the street, the `devil-may-care` attitude to drink and drugs, the whole `Swinging London` thing, are there any episodes which you particularly remember?
SE: I`m going to write a decent book, hopefully with John Reed, about then up until now. To answer your question: it just felt like the ultimate high. We were playing every night and girls were ripping us apart - which, silly as it may sound, became a real pain as it got in the way of the music and people were getting hurt at concerts. As for drugs, some of us took dexys and some dope after gigs. It just seemed like everyone did. We never took acid, although I did some years later. Overrated, I reckon. Mescaline was good for rehearsing but I grew away from all that. As for cocaine - over-priced, overrated, damaging crap. I had a fling with it but it made me ill. I packed all drink and drugs up in 1978.
One story that always makes me laugh was when a hotel we stayed at in Scotland was literally stormed by girls. They were up the drainpipes and across the rooftops. We were hiding some of them in our rooms when the police turned up, big blokes. One of the band was getting a bit carried away in a wardrobe with a girl. This policeman the size of a doorframe opens the wardrobe and said member, stark naked, jumps onto the copper`s back, smiling like a loon. I thought, "God, we`ve had it this time!" However, this copper was brilliant, he just threw him off like a rag doll, and said, "Behave, laddy!" I don`t know who was more freaked out, the band member or the copper. Anyway, they said, "Enough, or you`re all in big trouble." So the girls were all escorted out. Did we give the (naked) band member some stick the next day. "Like big policemen as well do we, eh?" and similar jibes. All in good fun... Too many funny stories to relay here though.
SD: Your image at this point, particularly the crewcut hair with that straight fringe, went against the prevailing trend of flowing locks and kaftans. There was probably only you and Julie Driscoll doing this in 1968. Was this your own style and if so, did you get people trying to change the way you looked?
SE: In an interview one time in Record Collector magazine I told them that basically I had an outgrown crew-cut and on tour I just razor-cut the front. Nobody said anything. After the first hit we wore the usual mod-type stuff. I hated all those stupid frilly shirts. I was mod 101%. That`s why I had a crew-cut. As for Julie Driscoll, I loved her. She was/is beautiful. But the haircuts were coincidental.
SD: Love Affair went on to score another two top ten smash hits in 1968 with "Rainbow Valley" (another Robert Knight cover) and the irresistible "A Day Without Love", (written by Philip Goodhand-Tait). Tait also contributed tracks to the band`s debut album at the end of the year and penned the two 1969 hits "One Road" and "Bringing On Back The Good Times". He was a talented songwriter with a knack for coming up with memorable, highly commercial material. Who was he and how did you get involved with him?
SE: Phil was the singer/keyboard player in The Stormsville Shakers, an early `60s soul band in the style of Chris Farlowe. He was class. Anyway, we got chatting after a gig he did in London. The upshot was that he turned up at rehearsals one day with our manager. He submitted some songs and he sort of became a sixth member but he didn`t tour with us. I loved his voice. He would ask, "What do you think of this song?" It just evolved from that really.
SD: The first album, "The Everlasting Love Affair", was released in late 1968 but despite including the first three hits it didn`t sell as well as might be expected. This was the era of bands being deemed either `singles bands` or `album bands`. (Check The Hollies around this time as an example of a group getting singles in the top five but having excellent albums - like Butterfly - ignored). Do you think this was the case with Love Affair or did CBS just not bother to promote it?
SE: I truly don`t know what happened. There was no big album campaign and just hardcore supporters bought it. Shame, as in retrospect the live studio tracks like "Hush" captured what we were about without the orchestra. Love Affair were a kicking band but we were labelled teenybop idols and it just stopped people taking us a bit more seriously. Very disheartening for me and the band at the time.
SD: Apart from the singles, the group play on the rest of the album and the tightness gained from years of club gigs is in evidence on your rip-roarin` takes of contemporary songs like "Hush", "Sixty Minutes of Your Love" and "Handbags And Gladrags". Your voice is excellent throughout and the whole thing comes across like a hybrid of The Small Faces, Spencer Davis Group and early Deep Purple. Of the 15 tracks, only three are written by band members (including the hilarious cockney sing-a-long "A Tale Of Two Bitters"). How important was the songwriting, or were you happy doing other people`s songs?
SE: Morgan and I wrote together but it was early days in that department. One of the first songs we wrote together was the b-side of our first Decca single. I remember with some pride playing with Geno Washington and the Ram Jam Band at the Starlite, Greenford. Geno came up to me and said, "Did you write that track `Satisfaction Guaranteed` that you played tonight?" It was unbelievable when Morgan and I said yes. Geno asked if he could record it - it blew us away!
Anyway, so Phil became the writer for A-sides and Morgan and I wrote the B-sides, with the band putting in their bits as well. Rex and Mick wrote some good songs. Rex (Brayley) still does. We still write together. Morgan lives in Japan now. I`d love to see him after all these years.
SD: There was some controversy when it came out that you hadn`t played on your singles. It was (and still is) common practice for record companies to use session musicians to save time and money in the studio. The confident group performances on the album prove that you were more than capable of playing on your records if you`d been allowed. You ended up having to defend yourselves against critics who`d never even bothered to come and see you play live. How did you feel being in that position?
SE: The Love Affair recorded "Everlasting Love" at Island with Muff Winwood producing, but nobody thought it was a single. Another session was booked and I did it on my own with a big orchestra, Clem Cattini on drums, Herbie Flowers on bass [please see note - Ed] and Sue and Sunny on vocals. It turned out great and consequently all the A-sides were made in this way and the sort of hybrid soul/pop we achieved became our sound. Unfortunately it didn`t marry up live. As I said before we were a kicking band. Morgan could not feasibly achieve the sound of a 40-piece orchestra with a Hammond organ, but we banged them together and rocked them up a bit for gigs. A bit of a paradox that one.
SD: It`s amazing now to realise just how successful Love Affair were. By the end of 1968 you were outsold only by The Beatles. Most of the group`s time was spent in a whirlwind of package tours, TV, radio, press and general `60s pop madness. You must have played with and met many other pop people around that time. Who do you most remember as being great bands/nice guys/nutters?
SE: Great bands: Spencer Davis Group, The Who, The Stones, The Move, Geno Washington, Sonny Childe & TNT, Jimmy James, Terry Reid, Small Faces, Zoot Money, Chris Farlowe and loads of US acts. Nice guys: Chris Farlowe, Terry Reid, The Who, Geno, Amen Corner, Status Quo, Barry Gibb, Barry Ryan, Jimi Hendrix, Stevie Wonder. Too many to mention. Nutters: We were all nutters! You have to be to get on in the music business, especially in the `60s. Mad as a shit-house queue!
SD: By the end of 1969 Love Affair had notched up five big hit singles. Your faces beamed from every pop magazine in the land and adorned the walls of thousands of teenage girls. However, your most recent single "Baby I Know" had faltered and the band seemed doomed to remain in the teenybop domain while all around you your contemporaries were either embracing the progressive trends of the period or simply calling it a day. You quit the band during a live show at the end of the year (as Steve Marriott had done with the Small Faces the previous year). What were the reasons for making the break?
SE: Love Affair was trying to change direction. "Baby I Know" was a good single and moved away from the hit formula. We were a good band but we had a lot of trouble adjusting to screamers - I don`t mean to knock those fans but we couldn`t hear ourselves on stage and it drove a wedge down the middle. The majority of the band had had enough, to be frank. I love music but it was not about music any more.
And so "Baby I Know" was a watershed - it charted briefly but we knew we were onto a loser. It was a catch 22 situation. Also some disagreements arose about money owed to us, the usual `60s dilemma. I told the boys, "Newcastle, and I`m gone." So when we finished the set I said, "Goodbye, I enjoyed the trip, so to speak."
SD: The first post-Love Affair solo stuff I`m aware of is your contribution to the soundtrack of the 1970 film adaptation of Joe Orton`s Loot. The album features some great heavy pop numbers like "Loot`s The Root" and "More" (probably arranged by either Keith Mansfield or Alan Hawkshaw - I only have it on tape) which sound like the direction you might have taken had you stuck with Love Affair. How did you get involved and what was your contribution (apart from your great singing of course!)?
SE: Loot was a great film. I was asked to sing the soundtrack. Of course the Keith Mansfield link threw the public. It was music for a film and, no, Love Affair would not have gone that direction. It was a bit jazzy. I enjoyed it and that`s all there was to it. As for the singles, I personally could not see the point, even though they were okay. It was record company/film company marketing.
SD: During the early `70s you formed the band Ellis and subsequently Widowmaker with Luther Grosvenor from Spooky Tooth. Tell us about this period.
SE: The first band was Ellis, which I formed with long-time pal Zoot Money. A great band. We toured relentlessly and played to packed universities and so on. I had finally cut the album I wanted to achieve but the record company did not give it the necessary promotion. After two years hard touring we became despondent. Coincidentally, the record company wanted me to drop the band and go solo. The band discussed the dilemma and decided to split. It was a tragedy for me as the band was so good.
Sometime later, Luther Grosvenor and Paul Nichols turned up at my house. We went out for a drink and they asked me to be their singer. I went to rehearsal and pulled Huw Lloyd Langton in from Hawkwind. (He`s a good pal of mine). We played and it was awesome, so I joined. Widowmaker was seriously hard rock, not heavy metal. We played and toured with ELO, The Who, Little Feat, just about all the great bands of the `70s. We were totally anti-record company business, proper punks in every sense - except we could play! We fought and argued but I`m still pals with Luther.
On stage we were great but we started to crack from constant touring and living out of each other`s pockets. I came back from the States with Huw (the others stayed in LA) after a three-month tour and we had £5 between us for a cab home. I said, "F**k this, Huw, I`m out of here." Don Arden took me to court but he lost. I was the first person to do that, I think it shocked the pants off him. He had manacled Steve and the Small Faces and Andy and Amen Corner. They warned me about him but it was `live for the moment`. Widowmaker should have been massive. I will never forgive Don Arden but what goes around comes around.
SD: You ended up living at Tara House, Keith Moon`s infamous residence, in the early `70s. According to Tony Fletcher`s "Dear Boy", you two were quite close for a while. What was your life like around this time?
SE: No, not Tara exactly - `Hippo Hall` we named it. It was similar to Tara but smaller. I wanted to buy it but for reasons left out it transpired that although he had paid for it, it was not in Keith`s name. Keith said I could stay there for as long as the paperwork takes to be put in order. Consequently I lived there rent-free as Keith would not take a penny from me. I think those days were very crazy and I loved Keith like a brother. He was a mad sod but he was a great friend.
SD: You gave up drink and drugs when Moon died in 1978, didn`t you?
SE: When he died I cried probably for the first time since I was a kid. It affected me so badly I lost the plot for a while and hit the bottle big time. One day I looked at myself in the mirror and thought, `Sort yourself out son.` Coming off the booze was hard but it was worth it. I still miss Keith but a lot of the stories are bollocks. Ask Roger Daltrey what Keith was like. Roger is still one of my best pals but he`s an actor now so I don`t see him so much.
SD: What have you been up to since?
SE: Shortly after all this I did a solo album with an all-star cast called The Last Angry Man - but it was shelved due to a row between the producers. A real shame. I had a bad accident in 1981 and was out of the business for ten years. Since 1991 I`ve been back touring as Steve Ellis`s Love Affair.
SD: You must be excited about getting back on the road with the band and the impending release of your new album. You have one or two star guests appearing with you, I believe.
SE: Yep, new band, new album - here we go again!
SD: What music do you listen to now and what keeps you motivated?
SE: I listen to anything decent. Music motivates me. As do my friends, of whom I`m fortunate to have quite a few, and my family.

---